See on Scoop.it – shubush healthwear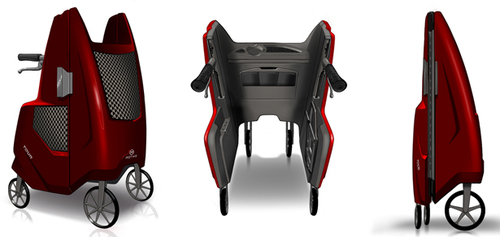 "We asked ourselves, what do users want and then looked for the materials and design concepts that can deliver that," says Knopow. "We borrowed a lot from the automotive industry," he adds, "and used ABS on the outside of the walker and ABS with a leather-like texture on the inside. It needed to look nice, but it also had to be as light or lighter than current walkers, which typically weigh around 15 pounds. The material and monocoque design helped us to achieve the aesthetic and structural integrity and weight that we wanted," says Knopow. He and his partner have applied for a patent on hollow-plastic walker technology."
petabush's insight:
I am all for choice and I am interested in new designs of anything that enables a journey from A to B. They've made it lighter – that's great! they've made it take up less room when packed in the car- good good! … Yet I still feel they've missed a trick here.
Why in healthwear? well – all these devices that enable our walking such as rollators and sticks and crutches become a part of us, we wear them, as much as use them. Therefore designers do need to think about the wearability factor of such objects.
So yes this is a move further down the road of desirable wearable health devices [sorry for pun] but if it answered a few more questions then this could have become a really innovative device.
See on www.plasticstoday.com